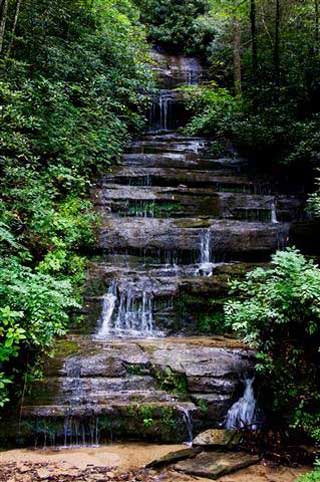 Amenities at Key Falls Inn
Dining: We have a seasonal Tapas style restaurant on the premises. The name of the restaurant is The Pavilion at Key Falls. You will find any information you may need on the website.
Key Falls: Key Falls Trail begins at the inn and continues to climb toward one of Transylvania County's numerous waterfalls. As you overlook the falls, you may see the stream which meanders its way down the French Broad River which borders one side of the property.
Horseshoe Pit: Take a stroll on our property and enjoy a family-friendly game of horsehoes.
Pond: For a pleasant diversion, walk to our pond where you may fish for bass or bream; or you can sit and enjoy the beauty of the cascading stream which feeds the pond.
Porches: For reading and relaxing, enjoying the view.
Refreshments: Between 3pm and 4pm each afternoon we are pleased to offer you complimentary refreshments (tea & cookies).