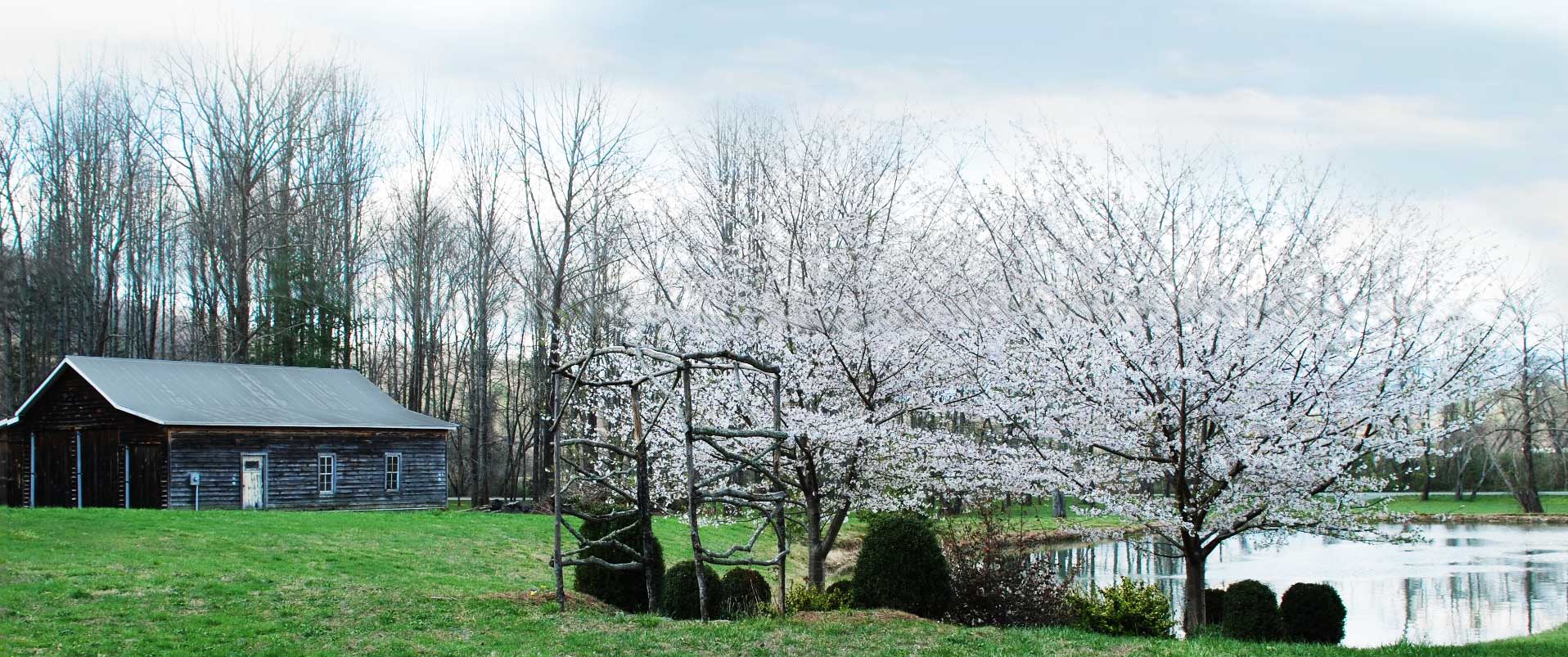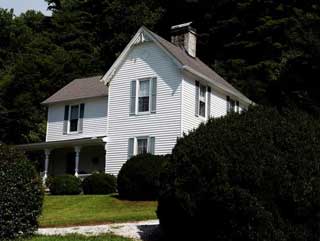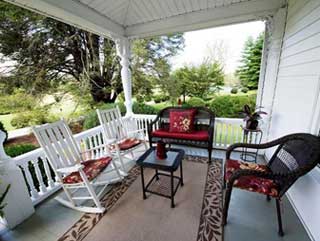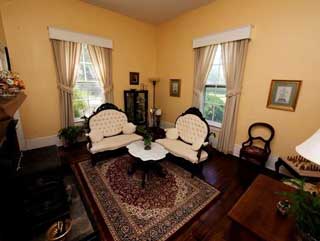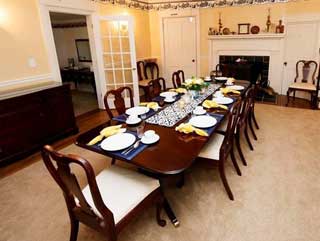 About Our Inn
Our front porch has a terrific view of the Blue Ridge Mountains. One of the most popular features at Key Falls Inn is the Pavilion, which is our restaurant,  located next to the creek. In the Pavilion, you can enjoy a fire, lovely views, and even a private, custom catered dinner. You can even toast marshmallows for S'Mores! Whatever your pleasure, Key Falls Inn is the place to enjoy all the Blue Ridge Mountains of Western North Carolina have to offer.
Key Falls Inn has five bedrooms each with its own bath. All bathrooms have been updated with cultured marble and tile. A wonderful breakfast is included in our reasonable rates. You can sip your coffee on the front porch and watch the fog slowly disappear as the smell of breakfast fills the air. From the same porch you can watch a dazzling sunset. Downtown Brevard is (only 10 minutes away) and is a vibrant hub for shopping, dining, art galleries, and the world renowned Brevard Music Center.
Outdoor enthusias? Then you are at the right place. The Inn is only 4.5 miles from Pisgah National Forest and 10.3 miles to Dupont State Forest where miles of hiking and biking trails and be found. Transylvania County is also known as the Land of Waterfalls and both of the forests offer some of the best waterfalls to be seen in Western North Carolina. Brevard is also famous for the Davidson River which is a mecca for the Fly Fisherman that travel from all over the world to fish in this pristine river.
A Brief History

The Key Falls Inn was originally the Patton House, which was built by Charles Patton, a native of Transylvania County, in the 1860s. The back section was constructed prior to The War Between The States; the larger front section was built after the war. Wood, sand and layered rock were hauled from the mountainside behind the homesite; door, windows and hardware were purchased.
Very quaint and inviting
We loved the picturesque country view. It was quaint and decorated so elegantly. We liked the location because it was close to many waterfalls and hiking trails. Even the property itself was in walking distance from Key Falls. Our room was beautiful and appropriately decorated. Because I had gluten-free diet restrictions, they prepared some delicious gluten-free muffins that they added to the bountiful breakfast. A great value for the money!
For More Information
Call Us